A few weeks ago, I told you selectmen had made a decision about residency requirements for Southborough's new police chief. Turns out that wasn't the case. What I thought was a decision was only a discussion. The actual decision wasn't made until last week.
Selectmen have always said that residency in town is "strongly preferred," but they were unwilling to make it mandatory as it was when Police Chief William Webber was hired in 2004.
When they first discussed the topic earlier this month, selectmen seemed to favor limiting residency to an abutting town. But their discussion last week focused on a wider radius.
By law, Southborough police officers are required to live in a town whose border is no more than 15 miles by air from Southborough's border. That means one of the blue or green towns in the map below.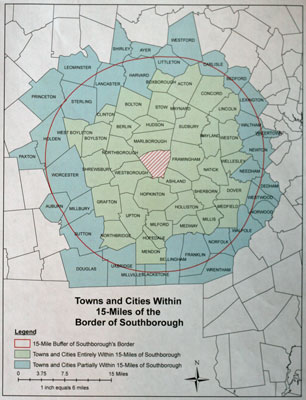 Selectmen considered adopting the same requirement for the police chief, but ultimately decided to reign it in a bit to towns that lie wholly within 15 miles of Southborough's border. That means the towns in green in the map above, stretching from Boxborough to the north, Mendon to the south, Wellesley to the east, and West Boylston to the west.
In arguing for the green towns, Selectwoman Bonnie Phaneuf noted that the police chief has round-the-clock use of a town vehicle. The farther the chief has to travel to and from Southborough, the higher the cost for gas and insurance. "The tax payers of this town would be picking up the tab," she said.
Applicants for the position can hail from anywhere, but if hired they must move to one of the designated towns.
In a recent My Southborough poll, 35% of you said the new chief should be required to live in town, while 58% said the chief doesn't need to live in town, but do need to be able to get here quickly in an emergency. The remaining 7% said the chief should be able to live anywhere they want.
For the latest on the search for a new police chief, click here.