With the workforce the way it is today, perhaps it's no surprise that a whopping 91% of this year's Algonquin graduates plan to continue their schooling in the fall.
According to unofficial numbers presented at last week's regional school committee meeting, 83% of graduating seniors plan to attend a four-year college in the fall, while 8% will go on to a two-year college. An additional 2% will enter trade or certificate programs.
The Metrowest Daily News recently did an article on postsecondary placement rates, and Algonquin's rate is on par with other districts in the area.
Of course, college is not the only post-graduation choice. Of the 361 seniors who graduated this year, some will enter the military, others will join the workforce, and still others plan to take some time off. Here's how the numbers break down.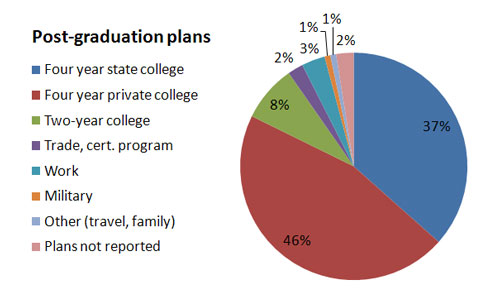 So what about you? What did you do after graduating from high school? Take the My Southborough poll in the sidebar to the right. (If you're reading this via email or RSS, you'll need to visit the site to vote.)