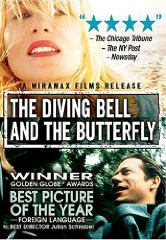 We've talked a lot about opportunities for kids at the library this summer, but here's one for adults. The library will host a weekly foreign film discussion series throughout the summer, with the first meeting on Wednesday.
The discussion of a variety of foreign language films – French, Italian, German, Spanish, Argentinian – will be moderated by Lauren Taylor-Fernandes, an interpreter, translator, and instructor at both Framingham State College and Boston University.
The first film is Golden Globe winner Le Scaphandre et Le Papillon
(The Diving Bell and the Buterfly), the inspirational true story of  Jean-Dominique Bauby, former editor-in-chief of Elle magazine, who was completely paralyzed with the exception of his left eye after a stroke. You can get a copy of the movie at the library or anywhere you normally get your movies.
Other titles in the film discussion series include, The Lives of Others
, Le Díner des Cons, Le Dernier Métro, Gloomy Sunday
, and La Vie en Rose
.
Discussions are free and open to the public, and run on Wednesdays in July and August from 6:00 pm to 8:30 pm. Refreshments will be provided. To register, call the library at 508-485-0304