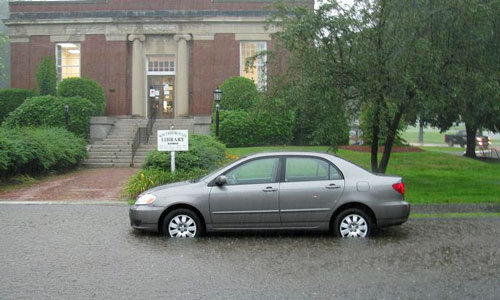 The library is a great place to take the kids on rainy days, but not this week.
Facilities Director Phil Rinehart told me the lower level at the library — including the children's section and meeting rooms — was flooded with approximately 2 to 3 inches of water on Tuesday and will be closed indefinitely.
Quick action on the part of the library staff saved most of the books, which were moved to higher ground before the water reached them.
A disaster recovery company was called in to pump out the water and dry the library using large dehumidifiers and fans. Rinehart said the carpet will be removed in the next day or so.
"After the lower two feet of sheet rock is removed from all of the walls, disinfectant will be applied to those sections that were removed to prevent mildew and mold," Rinehart said in an email. "After the basement is completely dried out, we will be replacing the carpet damaged by the water."
Rinehart did not know how long the children's section will be closed, but guessed "a couple of weeks anyway."
In addition to the library, Fayville Hall got about five inches of water in the basement and lost power. The power outage took the town's cable access stations offline.
Rinehart said the town is filing all the necessary paperwork with their insurance company. No word yet on the cost of the damage to town buildings.