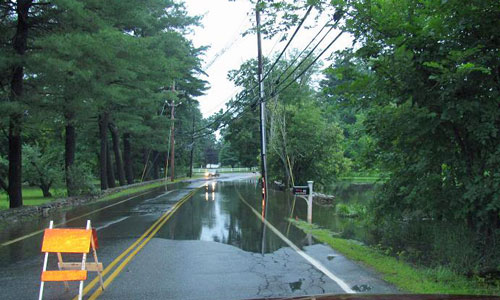 Repairing streets, stabilizing eroded shoulders, and cleaning up debris after last week's massive storm will keep the Southborough Department of Public Works busy for weeks Superintendent Karen Galligan told me recently.
The storm dumped more than 4.5 inches of rain on the town in just over two hours. "That is a very unusual occurrence," Galligan said. "For reference, a fifty-year storm is 5.5 inches over 24 hours."
Galligan said some streets lost asphalt during the storm, and shoulder erosion happened just about everywhere.
"We received a ton of calls during the storm about flooding, but there wasn't much we could do. Drainage systems are not designed for that amount of water coming in such a short time," she said.
"Culverts throughout Town were overloaded so rivers and streams ended up flowing over the roadways," Galligan said. "Some of the roads were just one big puddle, or worse, were running like a river."
Galligan said DPW crews are focusing on stabilizing roadways and shoulders and cleaning up large debris that collected in flooded areas during the storm. Some areas will be swept to make sure storm debris doesn't clog drainage systems.