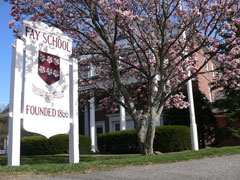 At their meeting on Tuesday night, Selectman Bill Boland announced that Fay School has decided to match St. Mark's $100,000 donation toward the purchase of a new ladder truck for the town. Great news, right?
Yes. And no.
Fay will donate $10,000 over the next ten years, all earmarked for the ladder truck. The problem is, that's all they plan to give the town. Their normal annual PILOT payment of $5,000 — already on the low side compared to other nonprofits in town — will go away in lieu of the ladder truck donation.
Compare that to St. Mark's which will pay $10,000 a year for the ladder truck in addition to their annual $20,000 PILOT contribution.
Better yet, compare that to the New England School for Children. NECC has offered up $120,000 over the next ten years for the ladder truck on top of their $77,000 yearly PILOT contribution, making them the poster child for good town-and-gown relations.
Chairman Sal Giorlandino said he was "disappointed" that Fay was not willing to give more. "This board is making it clear that Fay hasn't done the right thing."
Boland said schools have cited the poor economy as a reason why they can't give more. Financial aid requests are up, while enrollment is down and endowments have taken a hit.
But residents at Tuesday's meeting said the construction projects Fay has recently undertaken makes that argument hard to swallow.
Boland said discussions with Fay will continue. "We do appreciate anything we're given by any institution that doesn't pay taxes," he said. "But maybe we can get them to do a little more."
Selectmen also approached Harvard which owns the Primate Center and the Book Depository off Parmenter Road, about making a contribution to the ladder fund, but have not yet received a response. Harvard typically makes an $18,000 PILOT contribution annually.