Last week I asked you how many arrests you thought the Southborough Police Department made in 2008. The answer? 107.
The majority of folks who voted in the poll — thirty-five percent — got that one right (see how others voted here). Perhaps that's because you're good guessers, or maybe it's because the information was published in this year's annual town report, in which case, cheaters.
Statistics from the annual report show the police logged over 10,000 incidents in 2008, the majority of which were building or patrol checks (58%), traffic violations (15%), and burglar alarm calls (6%).
Only about 3% of the incidents were crimes against people or property. That doesn't sound like much, but in the report, the department said such crimes were on the rise in 2008. Here's how it broke down (click to enlarge):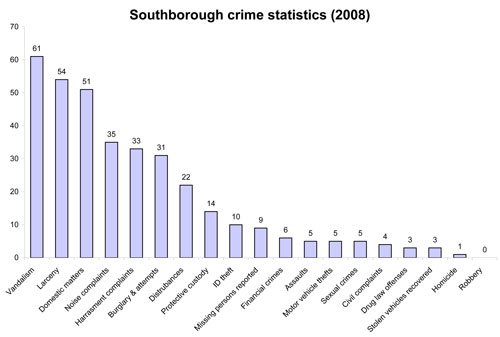 Notice the one homicide? That's the Southville Road car accident from last December that resulted in the death of a Framingham High student. Two people were indicted on murder, assault, and other charges related to the crash. It was the town's first homicide since 1974.