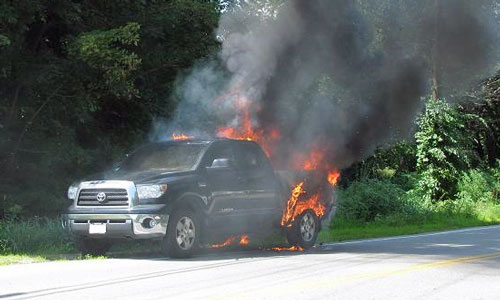 The driver of a pick-up truck escaped injury when his truck went up in flames last Friday on Central Street. His truck was not so lucky.
The driver was headed south on Central Street when he smelled smoke and noticed flames coming from the truck's bed. He pulled over and tried unsuccessfully to extinguish the flames. By the time firefighters arrived, the back of the truck was engulfed and flames extended through the rear window into the cab.
It took firefighters only about five minutes to extinguish the flames. Central Street was closed in both directions for approximately 30 minutes. The cause of the fire is under investigation.
All photos courtesy of the Southborough Fire Department. You can see more on the fire department website.