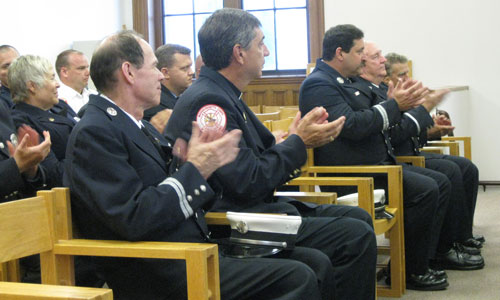 At the Board of Selectmen meeting on Tuesday night, Fire Chief John Mauro Jr. handed out service award pins to members of his crew in recognition of their time with the department. He also got to keep one for himself for his 35 years of service.
Those with 20 or more years of service are also listed in the Massachusetts Fire Service Commission's statewide database.
"I thank those who have worked hard to be there for the town when they were needed," Mauro said.
50-Year Award
Call Lieutenant John Mauro
40-Year Award
Call Lieutenant James Colleary
35-Year Award
Call Lieutenant/EMT George A Hubley, Jr.
Chief/EMT John Mauro, Jr.
30-Year Award
Captain/EMT-Intermediate Joseph Hubley
25-Year Award
15-Year Award
EMT Cynthia Bechtel
Admin Assist./EMT Susan Chorey
Firefighter/EMT-Intermediate Kenneth W Franks, III
10-Year Award
Firefighter/EMT-Intermediate Robert Kane
Lieutenant/EMT-Intermediate James Peltier
5-Year Award
Lieutenant/EMT-Paramedic Christian Dano
Chaplain Fr. Craig Lister
Firefighter/EMT–Paramedic Paul Pierce
Firefighter/EMT–Paramedic Matthew Rice
Firefighter/EMT–Intermediate Jason Roach
Firefighter/EMT– Paramedic Christopher Shanahan
Firefighter/EMT–Paramedic Kenneth Strong
Call Firefighter John Tommaney
Firefighter/EMT–Paramedic David Wills