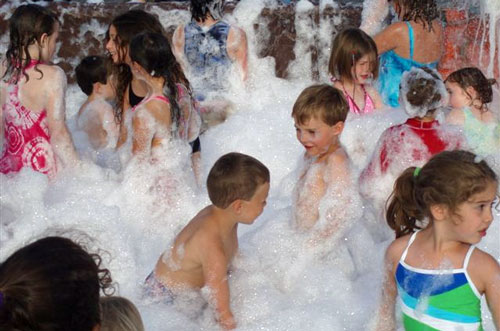 Sometimes when things don't go according to plan, it's a blessing in disguise. The organizers of Southborough's annual Summer Nights celebration might agree.
Last year the event was supposed to take place in June, but rain caused it to be rescheduled to late August. Residents seemed to like the change.
"Last year people really seemed to enjoy themselves and the chance to visit with friends and neighbors after the summer vacation.  Rather than a kick-off for summer it was really more like a celebration to the end of summer, and a kick off for the upcoming school year," Recreation Director Doreen Ferguson said.
So this year Summer Nights will again be held at the end of summer on August 30 with a rain date of August 31.
The festival begins at 5:30 pm at Neary. Fireworks will be set off around 8:15pm.  Admission is free and parking is available at the Neary parking lot with overflow parking available at Trottier via the Deerfoot Road entrance.
Here's some more detail on the festivities from the Rec Department:
Activities for children include the popular fire truck slide and "Bubble Romp", pony rides, moonwalk, obstacle course and rock climbing wall.  Back this year by popular demand is the dunk tank, where folks can attempt to dunk their friends and family members into a 500 gallon tank of water. It is recommended that parents pack towels or a change of clothes for children who want to go in the Bubble Romp or for anyone being dunked in the dunk tank.  All areas will be blocked off from traffic so that people and children can roam safely from one activity to the next.

The Infractions will provide live entertainment.  Their repertoire includes a variety of popular hits from the 1960's, 70's and 80's and is enjoyed by all age groups.  The live music is being sponsored by Walgreen's Pharmacy of Southborough.  A varied menu of finger foods and treats will be available for purchase from local establishments including pizza from Domino's, sandwiches from Quizno's, ice cream from The Creamery and sushi and chicken wings fromYama Zakura of Northboro.

As in years past, the evening will end with a spectacular fireworks display over the Neary Field at dusk.  Again this year, Bill Depietri of Capitol Group Properties will co-sponsor the fireworks display along with a new sponsor; the non-profit organization Friends of Southborough Recreation.  Other new Southborough sponsors include Choice Car Wash and Long Cadillac Hummer Saab.  Annual supporters of the event include Southborough House of Pizza, Tomasso Trattoria and Italian Market, The Fay School, Brendon Properties, Yama Zakura, Middlesex Saving Bank, Wellen Construction and St. Mary's Credit Union.

To make a donation or to sponsor an event, contact Robin Martin at 508-333-1221.  For all other information about the event contact Southborough Recreation at 508-229-4452.
(For the latest on Summer Nights, click here.)