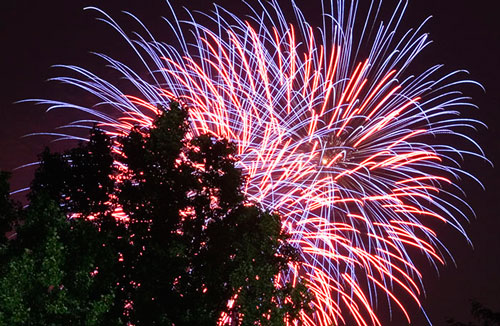 Here are all the details you'll need for Summer Nights on Sunday. See you there!
Schedule
Activities start at 5:30 pm. The fireworks display is expected at happen around 8:15 pm.
Location and parking
All the action happens at Neary Elementary School (map). You can park in the Neary or Trottier lots, but the road between the two schools will be closed, so you'll need to access Neary via Parkerville Road and Trottier via the Deerfoot Road entrance.
There will also be a designated pick-up/drop-off area at Lundblad Field off Parkerville Road. Note that no parking will be allowed on the east side of Parkerville Road.
Rain date
The weather still looks a bit iffy for Sunday. The Recreation Department will decide on Saturday whether to go ahead with the event on Sunday night or push it Monday night. You can find out by checking the Rec Department website, or by calling 508-485-0710, option 8. I'll also update the blog as soon as I hear anything.
Update: It's official — Summer Nights is happening Sunday night as planned.
Activities
Fire truck slide and Bubble Romp, pony rides, moonwalk, obstacle course and rock climbing wall, dunk tank, and of course, the fireworks. Bring towels and a change of clothes for children who want to go in the Bubble Romp or for anyone being dunked in the dunk tank.
Music will be provided by the Infractions, a 60's, 70's, and 80's cover band.
Food
A varied menu of finger foods and treats will be available for purchase from local establishments including pizza from Domino's, sandwiches from Quizno's, ice cream from The Creamery and sushi and chicken wings fromYama Zakura of Northborough.
(Photo by dcJohn)