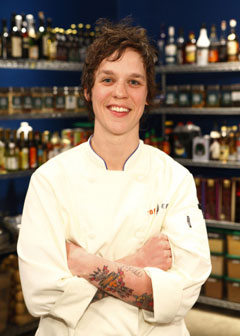 If the promos running on Bravo TV this week are any indication, tonight's Top Chef will feature some drama involving St. Mark's alum Ashley Merriman.
Ashley has already proven she's no stranger to controversy when she got her knickers in a twist last week over a challenge that had her cooking for a bachelor/bachelorette party. Being asked to cater for a heterosexual couple about to get married got Ashley, who disclosed in the episode that she is gay, fired up about gay marriage.
So, what do you think of our (sort of) homegirl Ashley so far? Take the poll below.
[poll id="25″]