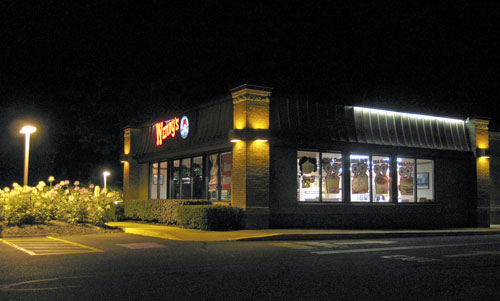 Two men wearing ski masks and brandishing silver revolvers held up the Wendy's on Route 9 (map) on Saturday night, making off with about $900.
Interim Police Chief Jane Moran said the men burst into the restaurant at about 9:00 pm and shouted for everyone to get down. There were two customers and five employees in the restaurant at the time. The robbers pinned the two customers to the ground while forcing the manager to hand over the cash.
Moran said the restaurant doesn't have security cameras, but indications are the robbers then fled on foot in the direction of the gas station to the west of Wendy's.  No car was spotted.
Southborough police responded and cordoned off the scene. A state police canine unit was called in, but the robbers were not found. Moran said detectives are "working non-stop" on the case, but so far no arrests have been made.
Witnesses said both men were white and in their 20's. One was about 6-feet tall and 200 pounds. The other was shorter and slimmer. Both wore black ski masks. Descriptions vary, but the larger man may have been wearing shorts and a t-shirt.
Moran said no one was injured, but the victims were "scared to death" by the incident. She said the same Wendy's was robbed several years ago at knife-point. There's no indication that the robbery was related to a recent spate of armed robberies in Northborough and Marlborough.
If you saw anything, or have any information on the robbery, you're asked to call Sergeant Sean James with the Southborough Police Department at 508-485-2147.