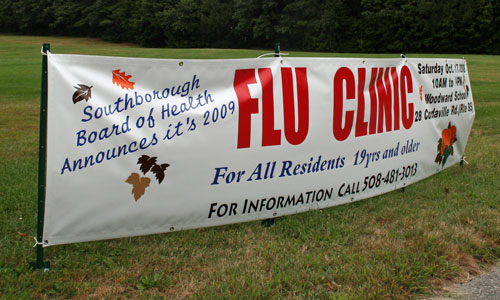 The Southborough Board of Health will hold two flu clinics next month, one for senior citizens and town employees, and another for all town residents ages 19 and older.
Town and school employees along with seniors (ages 65 and older) get vaccinated for free. All others pay $15. Note that this is for the season flu only. The Board of Health says they will hold separate H1N1 clinics in November or December, but those haven't been scheduled yet.
Here are the dates and times for the October clinics:
Town and school employees and senior citizens
Wednesday, October 7
11:00 am to 4:00 pm
Southborough Senior Center, 9 Cordaville Road
Seniors should bring their Medicare and/or Senior Health Plan Insurance Card
All residents (ages 19 and up)
Saturday, October 17
10:00 am to 1:00 pm
Woodward Elementary School
28 Cordaville Road
You can find more details in this announcement (.pdf) from the Board of Health.