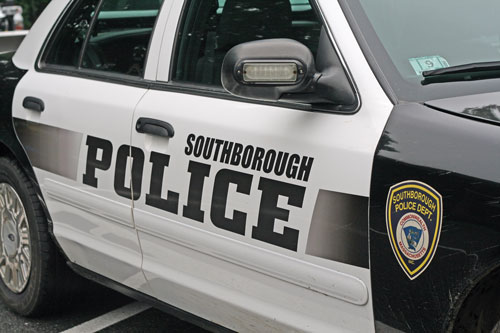 A Southborough police cruiser was involved in a minor traffic accident earlier this month at the intersection of Newton and Cross Streets. The cruiser was broadsided after its brakes failed.
There were no injuries and both vehicles drove away, but Interim Chief Jane Moran said it could have been "catastrophic" if the brakes had failed while the officer was responding to an emergency call and traveling at a high rate of speed.
It's one of the reasons Moran says the department needs to replace their cruisers at regular intervals. Town Meeting voters approved the purchase of one new SUV last April, and Moran will ask them to approve another at the special town meeting later this month.
Moran told selectmen last week that the police department has replaced two cruisers each year "for as long as I can remember."
If voters allocate the funds, the police department will spend $33,500 on a second new Ford Explorer. The SUV will replace Cruiser 100, a 2003 Crown Victoria with 76,000 miles on it. Cruiser 100 is used primarily by Chief Moran.
"It would be irresponsible to the town if we didn't keep our fleet in the highest state possible," Moran said. "And I would be irresponsible if I told the town we would be safe operating that car (Cruiser 100) for another year."
Advisory Committee member Jim Hegarty said he called other area towns to find out when they replace cruisers. "It's when they die on the road," he said.
But Moran said in Southborough, unlike in larger towns such as Framingham, all vehicles have to ready to be patrol vehicles. "Our vehicles have to be reliable and they have to be able to respond to emergency calls," Moran said.
Chairman Sal Giorlandino and Selectwoman Bonnie Phaneuf both voted to support the article at town meeting. "I don't want members of the police department operating cars that are not up to par," Giorlandino said.
But Selectman Bill Boland opposed saying the town can only afford to replace one vehicle this year. He also said he would not support an SUV being used as the chief's car.