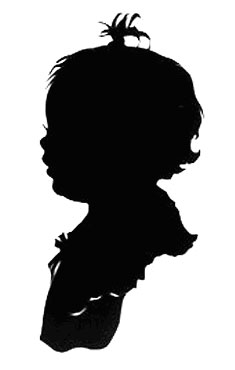 Here's a unique opportunity to get a treasured keepsake while benefiting the Friends of the Southborough Recreation Department.
The Friends has teamed up with silhouette artist Jean Comerford. They'll be offering sittings next Friday and Saturday where you'll be able to get silhouettes made of your kids on the spot. Here are the details.
Portraits in Silhouette by Jean Comerford
Fundraiser for the Friends of the Southborough Recreation Department

Date: Friday, October 2 and  Saturday, October 3
Time: 10:00 am to 4:00 pm each day, by appointment only
Location: Southborough Recreation Department, 21 Highland Street (map)

Sittings are appropriate for ages 6 months and up, and are by appointment only. To schedule a sitting, contact Melissa Shields at melissa_shields@yahoo.com, or call the Rec Department at (508) 229-4452.

Cost is $29 per child for first silhouette cut and $10 per child for a second cut. Single frames are available for $28 and double or triple frames for $38. Mounting is included.
Funds raised by the Friends will help support community events and recreation activities throughout the year, including the Third Annual Gobble Wobble coming up in November, Valentine and St. Patrick's Day parties, and other events. The fireworks at Summer Nights this year happened in large part thanks to the Friends, which took on half of the expense.
And don't forget, the Friends has another fundraiser tonight at Jenny Boston in Westborough.