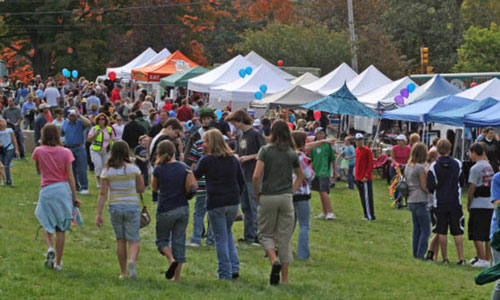 Here's what's happening this weekend for Heritage Day. You can see the complete schedule here and a parking map here.
Scarecrow contest (Saturday-ongoing)
Drop off scarecrows at the Community House on Saturday from 3:00 to 5:00 pm. The winners will be announced on October 12, and scarecrows will be on display through October 17.
Heritage Day Road Race (Sunday)
Registration opes at 9:00 am on Sunday at Neary School. The race starts at 10:00 am. You can find a map of the race course here.
Light Up Southborough Pumpkin Viewing (Sunday)
Drop pumpkins off in front of the library on Sunday from 4:30 to 6:30 pm. Pumpkins will be lined up atop the stone wall on Common Street and will be lit from 7:00 to 8:30 pm.
Heritage Day Parade (Monday)
The parade line-up starts at 9:30 am at St. Anne Church. There will be no cars allowed in parking lot-there is a drop off location on the corner of Upland and Walker (map).
The parade starts at 10:00 am and winds from St. Anne Church, down Boston Road to Main Street, and on the the Common. This year's Grand Marshal is Southborough resident Dan Kolenda who recently returned from a tour of duty with the JAG Core in Iraq.
Heritage Day Festivities (Monday)
Vendors at St. Mark's field are open from 9:30 am to 3:30 pm. Here are some of the other activities throughout the day:
10:00 am – 2:00 pm Friends of the Library book sale (Southborough Library)
11:00 am – 2:00 pm Fire Department open house
11:30 pm Life Flight helicopter lands on St. Marks Field
11:30 am – 2:00 pm Luncheon at the Community House
2:30 pm Third Annual Pie Eating Contest (sign up at the gazebo)