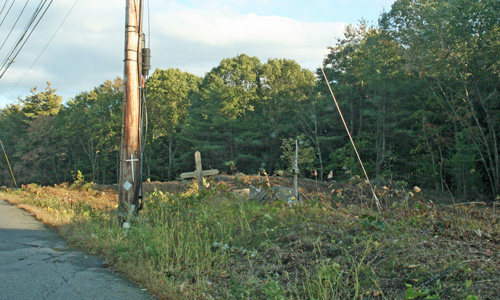 If you've driven down Northboro Road recently, you've probably noticed that trees on the south side of the road have been cleared, including those surrounding the site of the fatal Murphy sisters' car accident.
Since the crash four years ago that killed 17-year-old Shauna and 15-year-old Meghan Murphy, the site has stood as a makeshift memorial, with crosses still in place today.
Town Planner Vera Kolias said the site clearing is in preparation for two mixed industrial buildings that will house contractors' shops and office space. The developers have approval from the Zoning Board of Appeals, but they still need to go before the Planning Board before construction can begin.
Chris Murphy, Shauna and Meghan's father, recently told me that developers have said they would preserve the area as some form of memorial, but the specifics have not yet been worked out.