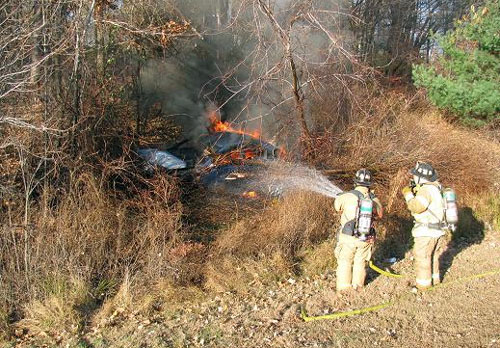 The Southborough Fire Department responded to a two-car crash on the Mass Pike westbound on Saturday afternoon that injured one driver and ignited a fire that engulfed one of the cars.
Here's a report from the fire department:
Firefighters and paramedics responded to the Massachusetts Turnpike on Saturday afternoon, November 7th in Ambulance 28 and Engine 23 for a vehicle crash with one injury. While responding, State Police called back reporting one vehicle was on fire.

The four on-duty personnel had to attend to one injured driver, as well as a gasoline-fed car fire, which was in the woods in the rear of houses on Gilmore Road.

Firefighter/Paramedic Matt Rice, and Firefighter/Intermediate Bob Kane attended to the injured driver. The driver was transported to the hospital with non life-threatening injuries. Lieutenant/Paramedic Mark Sadowski and Firefighter/Paramedic Kenneth Strong started to fight the car fire. Chief John Mauro also responded.

Additional assistance was requested from off-duty and on-call personnel, as well as for another engine with water and firefighting foam. The fire was difficult to extinguish as it was fed by leaking gasoline from the fuel tank.

Firefighters were on scene for nearly two hours while the fire was extinguished, trees were cut down to access the car, and the car was removed from the scene via flat-bed tow truck.

No further injuries were reported. The car is a total loss.
Photos courtesy of the Southborough Fire Department. You can see more photos of the crash on their website.