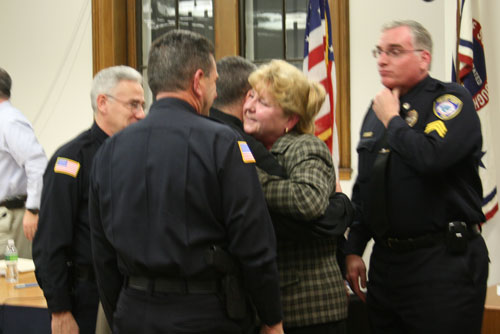 "Should the Board of Selectmen retain Jane Moran as leader of the Southborough Police Department? That is the question," Chairman Sal Giorlandino told the crowd at the Town House waiting to hear who would become the next police chief.
When all was said and done last night, the selectmen decided the answer was "yes" and they unanimously appointed Moran to the position of police chief.
Selectman Bill Boland originally recommend Framingham Lt. Paul Shastany for the position, but voted for Moran in the end after the other two board members — Giorlandino and Selectwoman Bonnie Phaneuf — put forward Moran.
All three selectmen said they struggled with the decision. "I didn't sleep last night," Giorlandino said.
"Each and every one (of the candidates) could serve the town of Southborough and make a fine police chief," Phaneuf said.
But for the selectmen it came down to Moran's years of experience with the Southborough Police Department, and her performance running the department as interim chief for the past year following William Webber's death last November.
Noting Moran's tenure with the Southborough police department — she started as a dispatecher in the 1980's — Giorlandino said, "There's 25 years of data to prove she deserves the job."
Arguing in favor of candidate Shastany, Boland said he represented "an opportunity for a different point of view" in the department, and called Shastany's record "remarkable."
The crowd at the Town House applauded when it became clear Moran would win the position. "Jane Moran's appointment will represent the best of Southborough's past, present, and future," Giorlandino said.