Please join me in welcoming the latest My Southborough sponsor, RioDesign Ltd, a Southborough-based multimedia and web design company. For information on how to become a My Southborough sponsor yourself, click here.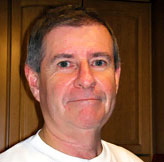 Ten years ago, Southborough resident John Del Rios founded RioDesign Ltd, a multimedia and website design company that focuses on small and mid-sized businesses. He does all types of multimedia design and development from websites and Flash animation to 3D modeling. Here's how John describes his business:
RioDesign will help you understand your business, your web design and marketing needs, and your customers needs, thus making you both successful.

I bring over 18 years experience in multimedia design and marketing communication to your business. I enjoy what I do whether it' s building a website or an animation and I can do it for a cost significantly lower than other design shops, the reason being that I'm in the business because I love it and I enjoy helping others.
John grew up in Framingham and has lived in Southborough for more than 12 years. Multimedia design isn't his only passion. He's also into stone sculpting, glass blowing, and wood working. Plus he loves to cook.
Learn more at www.riodesignltd.com.