Last week selectmen set our property tax rate for fiscal year 2010 at $14.06. That's a tad lower than last year's rate of $14.16. But Principal Assessor Paul Cibelli warned that we might see a significant increase in the tax rate next year.
At town meeting last April we voted to use a one-time cash injection of approximately $700K to keep the tax rate low. And it worked. Problem is, that cash most likely won't be available again next year, which means chances are good the tax rate will go up in fiscal year 2011.
How much will it go up? That's anyone's guess, but history might give us some indication. The town took a similar strategy in 2008, using free cash to offset the property tax rate. The following year, the property tax rate increased by a whopping 9%.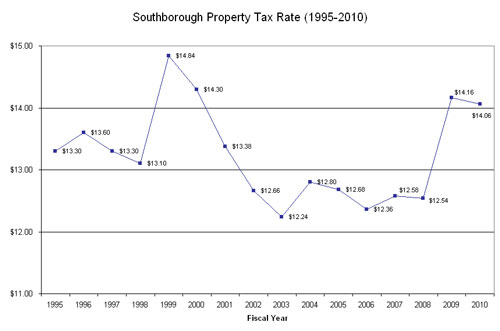 From the chart, it looks like the same thing might have happened in1998-1999, but I'm not sure. Anyone recall?