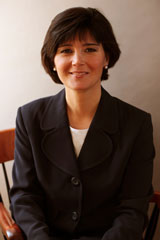 As part of the discussions we've had on this blog about the dire state of the school budgets, several of you have suggested contacting our state representatives to talk about the cuts the state has made in education funding — cuts that have significantly impacted our town. Here's a chance to talk to one of our representatives live and in person.
Rep. Carolyn Dykema, who represents Southborough precincts 2 and 3, will be at Mauro's Cafe on Friday from 11:30 am to 12:30 pm to meet informally with residents. Everyone is welcome, whether you're in Rep. Dykema's precinct or not.
If you're not able to attend, you can contact Dykema's office by calling (617) 722-2210 or emailing leah.robins@state.ma.us to set up a personal appointment.