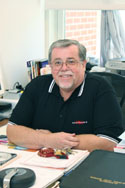 When Algonquin music director Dennis Wrenn died last year, many in the community called for the Algonquin auditorium to be named in his honor. Turns out the regional school committee has a policy and procedure for how buildings or parts of buildings get named. They even have a subcommittee.
The Regional School Committee Naming Subcommittee was recently convened and they're now accepting nominations from the community.
In a statement the committee said, "Permanently naming buildings after individuals is a serious undertaking that can have long-term ramifications. Suitable candidates should be widely acknowledged to have made extraordinary contributions to their field of service and/or the High School."
According to the policy district employees cannot be considered for a naming honor until five years after their employment ends, so technically, Dennis Wrenn is not eligible. But the regional school committee can waive any part of their policy, so I wouldn't let that stop you.
Nominations are not limited to former district employees. Exemplary members of the community, as well as regional and national figures, will also be accepted. The subcommittee is charged with considering names for "the high school, parts of the high school, and grounds."
If you're interested in making a nomination, you'll need to get a brief statement into the Office of the Superintendent by 4:00 pm on March 31. You can get more details here.