[Note: What follows is a statement authored by the Committee to Reelect Sal Giorlandino. No endorsement is implied. If you're running for a town office this year and would like to post a statement on My Southborough, drop me a line. Town elections will be held on May 10. A list of candidates can be found here.]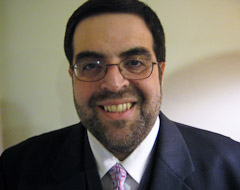 Sal Giorlandino has lived in Southborough for more than 20 years.  His two daughters, Rosanna and Olivia, attend the Southborough Public Schools. Since moving to Southborough in 1989, both he and his wife, Rhonda Russian, have been and are currently very active in the community and participate in many civic activities.
As Selectman, Sal has worked numerous hours to carry out the Board of Selectmen's responsibilities. His accomplishments as Selectman during the last three years include the following:
Sal has helped hold the line on the Town's Annual Budget, and his efforts have assisted seniors on fixed incomes and working families whose incomes have not increased or have declined.
Sal appointed the new Building Inspector/Zoning Enforcement Officer. During the appointment process, Sal worked to find the candidate that would best enforce the Town's Zoning Laws. With a goal to modernize the enforcement process, and work closely with the residents of Southborough.
Sal has worked with many Town residents on a number of major matters. He sat on the Fire Ladder Truck Committee as an advisor member. The end result being the Town's purchase of a new fire ladder truck for the Fire Department thus enhancing the safety of the community.
Sal worked with Town residents in appointing a new Police Chief. The Police Chief was appointed with the assistance of a seven member committee comprised of Town residents appointed by the Board of Selectmen and a respected private public safety consultant.
Sal supported both the K-8 School System and the Board of Health in filling their unexpired vacancies.
In addition to being a full time member of the Board of Selectmen, Sal has served on a number of municipal committees, including the Affordable Housing Trust Committee, the Emergency Planning and Management Committee, the Metrowest Growth Management Committee, and the Zoning Advisory Committee.
Southborough is a great community and Sal and his family will continue to be a part of it for many years to come. As such, Sal and his family have a vested interest in the Town's continued well-being, and he wants to continue to be part of the effort to maintain the Town's allure by participating in management of Town government by continuing on the Board of Selectmen. Sal's goals for a second term on the Board include continuing to promote fiscal responsibility by Town government and to bring Town residents together to tackle major issues confronting the Town. Town resident participation in municipal government decision-making is vital to maintaining the Town's stature.
Read more from the Committee to Reelect Sal Giorlandino in this flyer (PDF).