As we talked about yesterday, there's good news and not-so-good news when it comes to Southborough's recycling rate. The good news is that the rate of recycling in town showed a steep increase from 2007 to 2009, when it went from 23% to 32%.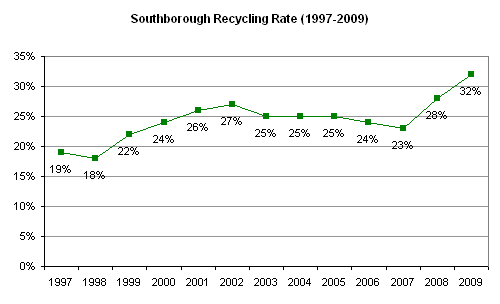 DPW Superintendent Karen Galligan said part of the increase is due to the schools getting their own waste disposal contract in September 2008. Prior to that, all the school waste was going through the transfer station, and since the schools didn't have a recycling program at the time, all of it was getting hauled away as trash.
The schools now take care of their own trash and recycling, so it doesn't go through the Transfer Station, and it doesn't count toward the town's overall recycling rate. In a comment on yesterday's post, Marnie Hoolahan shared some encouraging news about new efforts by the schools to recycle.
The not-so-good news when it comes to our recycling rate is that we have the lowest one of all the surrounding towns. Using data from 2008 — the latest available from the Mass Department of Environmental Protection — when Southborough's rate was at 28%, Hopkinton was at 40%, Northborough was at 37%, and Westborough was at 32%. Framingham, Ashland, and Marlborough also all had higher recycling rates.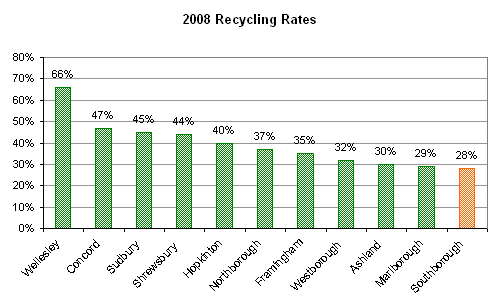 Assuming we agree that recycling is a good thing (and not all of us do), what would it take to get you to recycle more?