Please join me in welcoming the latest My Southborough sponsor, Mamas N' Divas, a new nail salon in Westborough started by Southborough mom Kim Ho. Keep reading to learn more about what Mamas N' Divas has to offer. For information on how to become a My Southborough sponsor yourself, click here.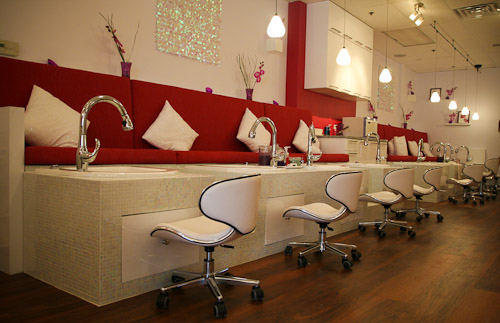 "It's Sex and the City meets American Girl," says owner and Southborough mom Kim Ho of her new nail salon in Westborough. It's a place that will make both moms and their young divas happy.
The decor is modern and chic — and clean. Kim says hygiene practices at the salon exceed state guidelines, and hers is one of only a few salons in the state that uses a medical grade autoclave to sterilize all their stainless steel instruments.
The salon is also unique because it caters to both mamas and their little divas. There's a dedicated spot just for the little ones, with a party room for celebrations. Think birthday parties, prom, and ladies' night out.
"We are the only exclusive nail destination in the area where chic Mamas, Divas and little Divas can share a fun, fabulous nail service experience together," says Kim.
Mamas N' Divas is located in the Village Plaza, Route 9 east in Westborough, next to The Little Gym. Mother's Day would be a great time to treat yourself to some pampering. Kim says they're offering complimentary tea and pastries for Mother's Day with any service.
Check the Mamas N' Divas website for more information and the latest specials, www.mamasndivas.com.
Some photos of the salon are below. Click a thumbnail in the gallery to enlarge and view as a slideshow.