The campaign between incumbent Sal Giorlandino and challenger John Rooney has seemed largely civil up until this point, but last night the gloves came off. At a Meet the Candidates Forum hosted at the Southborough Library, each candidate for Selectman questioned the other's leadership skills, and Giorlandino accused Rooney of orchestrating a negative Internet campaign against him.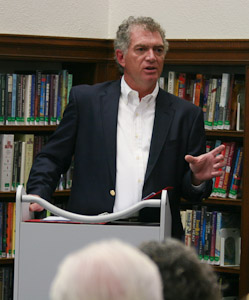 "I am not now, nor will I ever be a politician," Rooney told the standing room only crowd. "I don't believe the position of selectman is a political position. I believe it's a management position. The biggest difference between myself and Mr. Giorlandino is leadership style."
"Right now in town we have a leadership style that hires lawyers, that investigated eight department heads as a result of a conversation that happened after work at a pizza place."
"John, I find it difficult for you to criticize me about leadership when you walked out on the police chief search committee," Giorlandino said, referring to Rooney's decision last fall to resign from the committee in charge of interviewing police chief candidates. "Tonight I am hearing that I'm some kind of monster. That's what you're painting me as."
A few minutes later while answering a question from the audience, Rooney told Giorlandino that he doesn't consider him a "monster."
"Then tell your supporters to stop posting the things you're posting on the Internet," Giorlandino interrupted. When Rooney denied instructing his supporters to make negative comments, Giorlandino said, "I have a feeling they're doing it at your behest," prompting an outcry from some audience members.
Most of the debate was spent dissecting the Southborough Eight investigation, the Marty investigation, and the police chief search process … and, really, there's so much to say on those three topics alone that I'm going to dedicate a separate post to them. Check back later for that.
Other topics that came up included the stabilization fund, building a commercial tax base, support for the schools, and whether seniors should be exempted from future Prop 2-1/2 overrides. I'll take each in turn.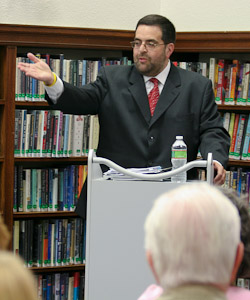 Tapping into the stabilization fund
Giorlandino said the stabilization fund should be used in emergencies, not to fund regular budget items. "We only have $400K left. What are we going to do next year?" he said. "That discussion needs to happen now." Giorlandino said the town needs to come up with "creative ways" to deal with the purchase of capital items like rebuilding or renovating the police station.
For his part, Rooney said he voted with Town Meeting this year to tap into the stabilization fund to avoid a tax increase. "We got a one-year pass," he said. "Next year there will be hard decisions. I would not recommend dipping into the stabilization fund next year."
Increasing commercial property taxes
An audience member asked whether the town could increase it's revenue by setting a higher tax rate for commercial properties like those along Route 9.
Rooney said voters should be given the option of increasing the commercial tax rate to get businesses "to pay their due."
Giorlandino said he's very concerned about having a tax base that's exclusively dependent on residential properties, but that the Board of Assessors has looked into a higher commercial tax rate and it wouldn't actually bring in that much more money for the town.
Supporting the schools
Rooney said that when it comes to doing what's best for the schools, he would listen to the recommendations of the elected school committee. "Just pouring and pouring in more money doesn't make a school system better," he said.  "There's a limited pot of money to go around each year. I believe the money is better spent on education than on outside lawyers."
Giorlandino said he has a good relationship with school committee members. He said there should be a level playing field for the schools and the town departments. While recognizing that the schools play a "unique role" in town because they educate our future generations, Giorlandino said, "If we're going to ask for belt-tightening, we should ask it of all."
Exempting seniors from future tax increases
Both candidates agreed that the fiscal outlook for the coming year is grim. Given the possibility of a Prop 2-1/2 override next year, an audience member asked if residents of Southborough's over-55 communities should be exempted from the tax increase because they use fewer town services than other residents.
"I don't think we could do that legally," Giorlandino said. "I view this community as a whole. It's open to debate who's contributing and who's participating. It's a loaded issue."
Rooney said other towns are looking into similar proposals. "I would be in favor of it if it's determined to be constitutional," he said. "It's all about fairness."