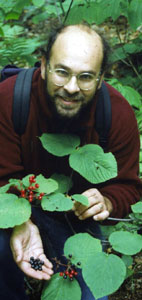 Who needs a garden when there are edible plants to be had out in the wild? Learn to identify them during the Edible Plant Walk next Wednesday sponsored by the Southborough Open Land Foundation. Here are all the details:
The Southborough Open Land Foundation (SOLF) invites you to an Edible Plant Walk at the Beals Preserve on Wednesday evening May 19 from 6:00 to 8:00 pm.

Southborough is home to over 100 species of edible wild plants, many of which are more nutritious and/or flavorful than their cultivated counterparts. Join Russ Cohen, expert forager and author of Wild Plants I Have Known…and Eaten, on a two-hour ramble to learn about at least two dozen species of edible wild plants. Pending favorable weather conditions, several edible mushroom species may be encountered as well. Keys to the identification of each species will be provided, along with information on edible portion(s), season(s) of availability and preparation methods, along with general guidelines for safe and environmentally responsible foraging.

For more information on Russ and his famous walks check out his web site http://users.rcn.com/eatwild/bio.htm.

The event is geared towards adults. The walk is free and will be held rain or shine. Pre-registration is required. To register please send your name and street address to solfstewardship@verizon.net

SOLF's ability to present this program was made possible by a grant from The Foundation for MetroWest. For more information about SOLF see their web site www.solf.org.