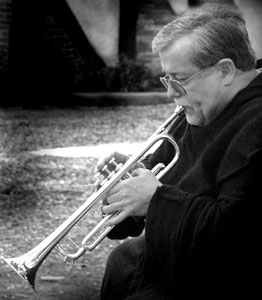 Since he passed away unexpectedly on a school trip to Greece last year, friends and relatives of longtime Algonquin music director Dennis Wrenn have pushed to name one of the performing arts spaces at Algonquin in his honor. Earlier this week, they learned that wasn't going to happen because the district's naming policy imposes a 5-year waiting period. Upon hearing the news, dozens took to Facebook to express their disappointment.
"Funny how the school committee couldn't make an exception for a man who spent his life making exceptions in his own life to benefit THEIR children at the Algonquin Regional High School!" Wrenn's daughter Jessica Wrenn Still wrote on Facebook.
But last night, make an exception is just what the regional school committee did when they voted unanimously to suspend the 5-year waiting period. That action clears the way for Wrenn's application — as well as the application of Spanish teacher Jeanne Arathuzik who passed away last year — to be reconsidered by the school committee's Naming Subcommittee.
"I feel in this case the waiting period doesn't serve any purpose," school committee member Susan Dargan said. "If we wait five years, none of the students who had these two teachers would have the opportunity to participate in honoring them."
School committee member Lynne Winters, who chairs the Naming Subcommittee, said the subcommittee was not comfortable overriding the policy without the express direction of the school committee. Now that they have been given direction, Winters said the subcommittee will go back and take another look at the applications.
Winters said Wrenn's supporters would like to see some performing arts space at the high school named in his honor. The auditorium is out because it's already named for John F. Kennedy, but other suggestions include the music wing or the band room. A Facebook page created this week by Wrenn's supporters is called Help us! Get the Music Wing Named after Dennis Wrenn!
Arathuzik's supporters suggested naming a language lab or similar facility in her honor.
Earlier this month, the Naming Subcommittee voted unanimously to recommend that the varsity baseball field be named in honor of Northborough resident and former Major League Baseball player Mark Fidrych, who died in an accident at his home last year.
The Naming Subcommittee is expected to make a new set of nominations at next month's regional school committee meeting. After that there will be a three month public comment period, and then the regional school committee will vote on the nominations.