A couple of readers this week sent in reports of recent wresting success for Southborough athletes. Have a look and send along your congratulations to all the boys.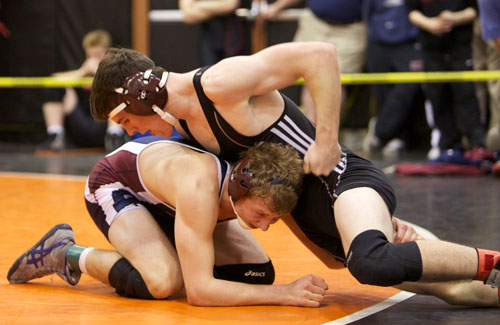 Matt Doyle of Southborough,  a junior at The Roxbury Latin School, represented RL in the 152 pound weight class at the National Prep Wrestling Tournament held at Lehigh University in February. Matt was ranked 7th going into the national tournament, but ultimately wasn't cleared medically, so he was unable to compete. Matt says he'll be back next year to try again.
Prior to the national tournament, Matt placed third at the ISL league championships, (called the Graves-Kelsey Tournament) before going on to medal at the New England Prep School Athletic Council (NEPSAC) Championships held at The Brooks School on February 19.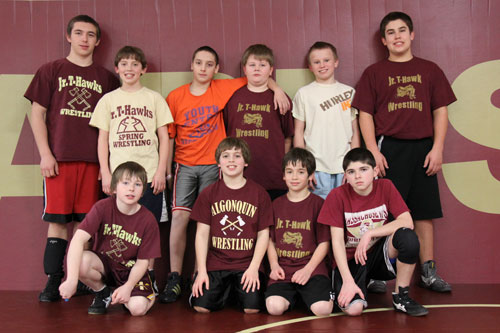 The Algonquin Jr. T-hawk wrestling program sent 12 boys to the Youth Central Sectional Championships in Wayland on February 6. Based on their performance at sectionals, six T-hawk wrestlers advanced to the state championship.
"We didn't bring 40+ wrestlers to the Sectional tournament like North Andover, but the 12 we did bring wrestled very well and represented the direction our Algonquin program is heading," Coach Wrin said.
Highlights from Sectionals
Drew Cozzolino lost his first match of the day but came back and finished in third place with a last period come-from-behind reversal for the win. Bryce Finnegan showed a lot of poise on the mat throughout the day, but was exceptional in coming back from a 2-point first period deficit. Bryce hit a 3-point cradle in the second period to take a 1 point lead, and battled off his opponent for the entire third period on his feet to advance to the consolation final.
Austin Roche battled all day long and had several dominant wins, coming back from a tough loss in the consolation semi finals with a pin to take fifth place. John Cone placed third in a weight class that had 21 wrestlers. His only loss on the day was in his semi final match to the eventual champion. David Wrin won a Sectional championship with a thrilling overtime head lock for a pin
State Championship results
Two T-hawk wrestlers placed in the state tournament held on Sunday in Chelmsford. David Wrin finished in fifth place with four wins and two losses on the day, and John Cone advanced to the championship finals with three dominant wins before falling in the finals to the same outstanding wrestler from North Andover that he faced in the Central Sectional tournament.
Big East tournament Results
Five T-hawk wrestlers advanced to the finals of the Big East tournament held on Sunday, Feb 13 at Reading high school, and two were crowned champion. Will Black and Bryan Connery both took first place. Max Keegan, Joey Bonnina and Cam Marcoulier each took second in their class.