Please join me in welcoming My Southborough sponsor, Absolute Yoga of Hopkinton. Keep reading to learn more about what AY has to offer. For information on how to become a My Southborough sponsor yourself, click here.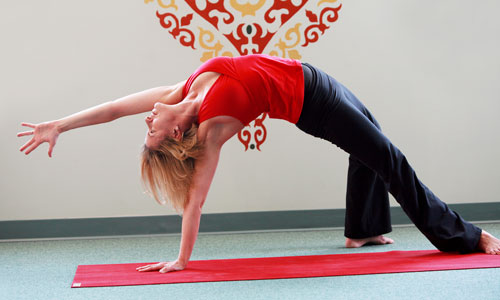 Absolute Yoga is a moderate-sized yoga studio that provides a professional yet down-to-earth atmosphere with a versatile and creative staff of teachers. Located in Hopkinton just a stone's throw from Route 495, Absolute Yoga's sun-filled studio has been a staple in the Metrowest community since 2001 with a reputation for being friendly, non-competitive and providing excellent instruction for adults, teens, and growing families.
AY takes the approach that yoga classes are not one-size-fits-all so we offer a variety of levels and styles to help people find a class that suits their ability and experience level. Rather than draw from a specific style or identify with a particular "brand" of yoga, our teachers study different lineages and draw from their range of study and experience to develop classes that help students progress in their yoga practice both safely and confidently. In addition to Basic Yoga, Yoga Flow and Strength & Flexibility Yoga classes, we also offer more specialized programs such as:
Growing Families Program which includes ongoing Prenatal Yoga sessions, as well as the full range of Itsy Bitsy Yoga classes for Babies, Toddlers, and Tykes/Little Families
Teen Yoga
Weekly Plus Size Yoga for Women classes and monthly Meetup
Monthly events and workshops
We know that some people like room temperature classes while others prefer a warm room so we provide different options for people to choose from. In general, our classes steer away from the "hot" yoga classes or extreme style yoga classes because we place safety and moderation at center stage. Our classes are designed to leave you feeling renewed and rejuvenated, and never depleted.
AY was founded by Metrowest native Kristine Maselli as a way to share her burgeoning passion for yoga. Her goal was to create a welcoming and safe environment for those experienced with yoga as well as for newcomers. "If you are new to yoga, it can seem intimidating to attend that first class," Kristine said. "But we are told time and time again how welcoming our studio and staff are. I would encourage anyone who has been thinking about yoga to experience a class with us."
Southborough resident Alexandra De Collibus said she became "head over heels hooked" on yoga after taking a class at AY years ago, eventually joining Kristine as Studio Director. While she started practicing yoga to help curb neck and back pain, Alexandra said she loves how yoga has improved all areas of her well-being. "More than anything, I was completely smitten with how much peace yoga brought to my body and mind," she said.
You can find out more about Absolute Yoga — and view their class schedule — on their website (www.absoluteyoga.net).