This is the latest in an occasional series by Beth Melo, a Southborough mom who loves to read to her kids. In this installment, Beth shares her picks for Christmas reading. This post was originally published on the Southborough Library website, and has been reposted here with permission. For more of Beth's book recommendations, click here.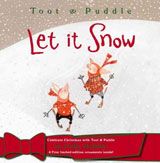 'Tis the Season to Read Jolly: Christmas Books for Young Children
I love Christmas time. Having kids makes it even better since it gives me the excuse to be a kid at heart myself. Among all the other juvenile joys of the season, I get to read lots of Christmas stories. I admit I am a sucker for them.
I do get concerned though that with such buildup for Christmas that the actual day will be a disappointment leading to the Christmas blues. So I try to make it about the whole season – not just the day. (I also try to make sure to read plenty of books having nothing to do with Christmas.) And I try to emphasize that Christmas is about generosity to everyone, especially those we love.
This time of year it can be so easy for children to focus on the presents they are going to get. "What are you asking Santa for?" "What would you like Grandma to give you?" "Remember Santa's coming – you better be good so he'll bring you lots of presents." If you read only the fun books, it can feed into that.
Books help me find a way (aside from general lectures that the kids tune out) to emphasize the importance of giving and the loving spirit that Christmas is about. Some good books for that are:
The following books are ones I enjoy for more superficial reasons having to do with fun or nostalgia.
Books about celebrating the season: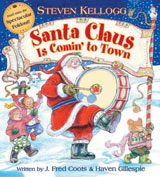 Books that bring famous Christmas carols to life:
Stories that are warm and sweet:
Books that are simply fun:
(Note: I focused on the secular/Santa-driven Christmas, since my family isn't religious. I know the library also has a good selection of religious Christmas stories that I'm sure are worth checking out.)