Every year after Town Meeting I take a look at the attendance numbers. It's typically a depressing exercise, and this year is no different. While it wasn't the worst on record, turnout this year was predictably light.
On the first night of Town Meeting, 277 residents showed up at Trottier, accounting for 4% of Southborough's voting population. On the second night, only 144 residents, or 2.1% of voters, showed up.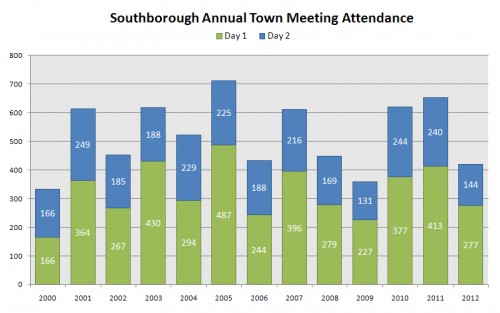 With major town issues – like whether to change the very structure of our government – being decided by only a handful of residents, some in town are asking what we can do to get voters more engaged. Others suggest we should abandon our form of Town Meeting altogether for something more representative.
In a comment on this blog yesterday, Selectman John Rooney had this to say about Town Meeting attendance:
We are fooling ourselves with the belief that open Town Meeting is representative of our town. The collective "we" in attendance at Town Meeting has nothing to do with self-governing in any realistic sense…The gravitational pull of the town meeting has nearly been lost, and for a variety of legitimate reasons an exceptionally large percentage of the registered voters in our town voluntarily abdicate power that is rightfully theirs.
Perhaps not surprisingly, the discussion about what to do about Town Meeting attendance is being conducted by those who actually attended it. But I want to hear from those of you who did not attend.
With the idea that before we can solve a problem we have to know what problem we're solving, take a moment to answer this (highly unofficial, highly unscientific) poll. If you did not attend Town Meeting – either one night or both – tell us why. (Note: If you're reading this via the My Southborough Daily email, you'll need to visit the blog to vote or view results.)