[This is the latest in an occasional series by Beth Melo, a Southborough mom who loves to read to her kids. In this installment, Beth shares recommendations for all the little princess out there. This post was originally published on the Southborough Library website, and has been reposted here with permission. For more of Beth's book recommendations, click here.]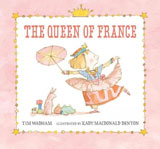 Don't judge a book by it's cover…unless you're a girly girl. Then books covered with pink sparkles, pictures of fairies, rainbow ponies, or pretty princesses are irresistible. Unfortunately for parents, frequent reading of these often trite or sickeningly sweet books can lead to the urge to hang yourself with a pink feather boa.
While I enjoy reading books that teach about girl power (like Cornelia Funke's Princess Knight) I also want to let my daughter enjoy her frillier side. So how can we cater to the princess in the house without going crazy? The best strategy is to find girly books that are readable. Here are my favorites that either by story or illustration should also hopefully capture little girls' affection:
Princesses next door: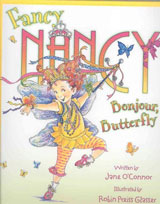 Real Princesses:
Princess Bess Gets Dressed by Margery Cuyler is a simple book about a happy princess enjoying her numerous fancy outfits, but none as much as when she gets to relax in her bedroom in her underwear.
Princess Peepers by Pam Calvert is a story about a girl who lets her peers convince her she looks weird wearing her glasses. Mothers who don't like happy endings to be about riding off into the sunset with a prince may disapprove of this book. But it offers an opportunity to talk about catty behavior/emotional bullying (something all girls will inevitably encounter whether as victims, perpetrators, or likely a little of both.)
The Princess Who Had Almost Everything by Mirielle Levert tells about a completely spoiled princess who is unhappy with everything, until someone teaches her to make her own fun.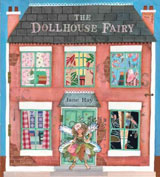 Fairies:
The Dreamtime Fairies by Jane Simmons follows the bedtime story a girl weaves (using their stuffed animals as characters) to help her little brother not be afraid of the dark. I'm generally biased toward sweet older sister/younger brother stories.
The Dollhouse Fairy by Jane Ray tells the story of a girl who's dollhouse is temporarily inhabited by a impish fairy, just when she needs the distraction
The truth is I'm not a fan of most fairy books. I could only find one more to recommend and half-heartedly at that. A fairy went a-marketing by Rose Fyleman has very little text, and no real story. But the illustrations are beautiful and there is nothing annoying in it. (If anyone has another fairy book to recommend, I'd love to hear about it, as would my daughter.)
Pretty in Pink:
If you have any questions for me, feel free to e-mail becmelo@yahoo.com. If you have any suggestions for other parents, you can post a comment below.