[Ed note: This is the latest in the Doing Good series which features stories of Southborough residents who are doing their part to help the causes they hold near and dear.]
Trottier sixth grader Kaasinath Balagurnath wants to make a difference in the fight against world hunger. While a fifth grader at Neary, Kaasinath created a team on the UN-sponsored website freerice.com, where he and his fellow students answered trivia questions to earn donations of rice for those in need. At last check, Kaasinath and his team had donated nearly 100,000 grains of rice.
But it isn't just hunger abroad that concerns Kaasinath. He's also focused on hunger right here at home. Kaasinath recently wrote an article on hunger for a student journalism contest. In it he uses Southborough as an example of how pervasive the problem of hunger is. Take a look at Kaasinath's article below.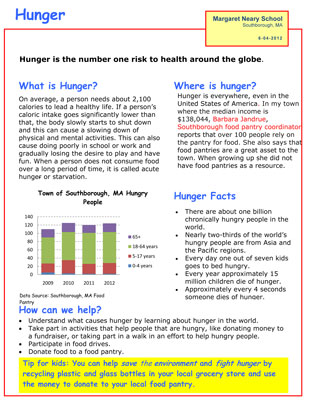 You can join Kaasinath in his fight against world hunger by encouraging your kids to sign up for his team on freerice.com.