The green 2012 Transfer Station stickers expire on Saturday, September 15, so if you haven't gotten a new one yet, it's time to do so. You can purchase stickers online or by mail, but they'll take 2 to 3 weeks to arrive, so at this point you may want to head on over to the DPW office instead.
At the DPW office, be prepared to show proof of residency and a valid car registration. And make sure to bring a check because cash is not accepted. Rates are the same as last, but there are some new fees and policies. The first sticker costs $175, the second sticker is free, and any additional stickers are $50 each. Senior citizens (65 or older by December 31, 2012) get the first two stickers free.
The DPW office is open Monday through Friday from 7:30 am to 4:00 pm. It's located adjacent to the Transfer Station. If you have any questions, you can call them at (508)-485-1210.
The sticker color this year is pink, which has thrown some of you for a loop. DPW Superintendent Karen Galligan said the vendor the town uses offers only so many colors, and she needed to pick one the town hasn't used in the past four or five years. The color also needs to be different that what is being used by area towns (Westborough just finished a 2-year pink stint for their stickers), and it needs to be light enough that the license plate number marked on it will show up.
Selectman John Rooney is a curator of sorts when it comes to Transfer Station stickers. He's compiled an archive of stickers on the wall of his garage dating back a couple of decades. Here in a series of shots is what that archive looks like. Raise your hand if you remember when Transfer Station stickers were round.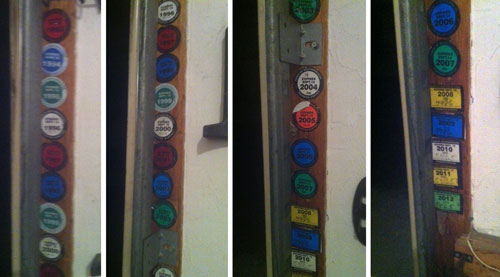 So, do you care what color the Transfer Station sticker is? What do you think of pink? Any color you you want to lobby for next year? It's only hard-hitting news here on My Southborough, so share your thoughts in the comments.
Update 4:00 pm: I caused some confusion with the original headline to this post which read "Get your new Transfer Station sticker by Friday." Let me attempt to clarify. The green stickers are good through September 15, so you'll still be able to dispose of your trash on Saturday if you have a green sticker, but the next time you go after that you'll need a pink sticker. Remember that the DPW office is not open on Saturdays (which is why I assumed most folks would get their stickers by Friday). I've updated the headline.