[Ed note: This is the latest in the Doing Good series which features stories of Southborough residents who are doing their part to help the causes they hold near and dear.]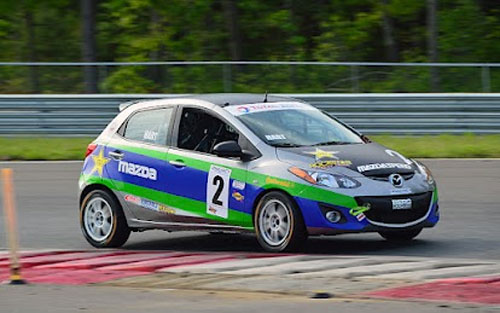 We hear a lot about all the wonderful people who compete in various races to raise money for charity: 5K's, bike races, marathons, and the like. On Saturday, Southborough mother Linda Ledoux will be one of those people racing for charity, but her race is going to be considerably faster – and louder – than most.
Linda will take to the track at Connecticut's Lime Rock Park tomorrow to race in the Grand-Am Total Performance Showcase. She'll be doing it to raise funds to help Brendan Shanahan, the young son of Southborough firefighter Chris Shananhan who was diagnosed with leukemia earlier this year.
Linda will race as part of the team from Guardian Angel Motorsports, a nonprofit she started with husband Bruce that raises money for children's charities. The idea for the organization arose after their own child, Colin, was born with a chromosomal abnormality that affects his brain development.
In taking the track tomorrow, Linda will combine her passion for helping people with her lifelong passion for racing. Read more in this press release.
Linda Ledoux is the mother of three, a painter, a soccer coach, a Cub Scout den leader, a part-time employee at EMC and a race car driver. Linda has always had a passion for cars and driving fast. The daughter of a mechanic, she spent endless hours in the shop with her father, watching as he repaired, serviced and maintained cars.

Over the years, Linda's passion never waned. In May of 2011, she attended an intensive two-day racing school at Monticello Motor Club in Monticello, N.Y., earning her NASA license and fulfilling her dream of race car driving.

Racing in her BergRacing Mazda 2, Ledoux will be spotlighting 19 month old Brendan who was recently diagnosed lymphoblastic leukemia. Just two months into his three and half year chemotherapy treatment, he is the son of a firefighter and who's mother has had to quit her job as an EMT to accommodate the medical needs.

"Raising money to help patients and their families is what I live for," Linda said. "Sometimes it's all I can think about: What I can do to help this person or that person? I feel more complete when I give back. I think more so now than ever, since I was blessed with my special child nine years ago. He has taught me so much through all his challenges that anything is possible."

Any individual or company that would like to sponsor the race to benefit the Shanahans can give a tax deductible direct donation or pledge a dollar amount per lap on the organizations website at https://donate.guardianangelmotorsports.com.
You can learn more on the Guardian Angel Motorsports website. Also be sure to check out this nice article about Linda in the Community Advocate.