This summer, the Algonquin Cheerleading Squad is sponsoring a two day youth camp.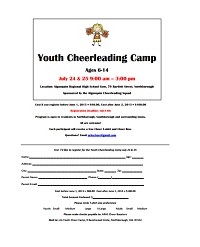 The cheer camp is for 6-13 year olds. It will be held July 24 and 25, 9:00 am – 3:00 pm in the Algonquin High School gym at 79 Bartlett St, Northborough.
The registration deadline is this Sunday, July 14th.  The cost is $100.
Participants will each receive a free cheer t-shirt and bow.
If you have questions, e-mail arhscheer@gmail.com
To register mail the application to the ARHS Cheer Boosters.