In the Music Man, a con-man cashes in on parents' fears that their kids are in for "Trouble with a capital T", if left to their own devices (such as a Pool Hall.) In Southborough, Teens now have a place to hangout that parents can feel good about.
Last fall, the Southborough Public Library created a "Teen Space".
The space is intended as comfortable place for teens to visit, study and learn.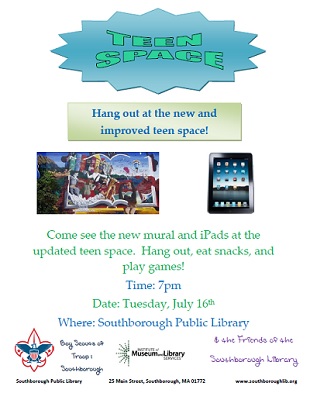 For parents, there can be comfort in knowing that, though unsupervised, their teens are meeting in a public forum with watchful eyes.
Teen Space was designed in collaboration with members of the Library's Teen Advisory group, overseen by Southborough Librarian Naomi Magnoni.
Eagle Scout Michael Piekarz of Southborough helped to organize the space and the move.
Since then, he has continued working to add technology.
Funding for the space was provided by a grant from the Massachusetts Board of Library Commissioners.
Click to enlarge
The Southborough Education Foundation recently donated ipads to the cause. And Lauren Kuchnir from the Trottier Mural Club has donated a new mural.
This Tuesday, the library will hold a small celebration to thank everyone who helped. The party will be from 7:00 – 8:00 pm in the new space. Teens are invited to come hang out, eat snacks, and play games.