Updated 8/22/13, 9:25 pm –  Pick-up and drop-off restrictions have been added
10th Annual Southborough Summer Nights is this Saturday, August 24 from 5:00 pm to Dusk. I don't know about yours, but my family can't wait.
In past years, Susan has taken beautiful pictures capturing the event. Unfortunately for all of you, I'm not the photographer Susan is. I will take photos, but I'd love to get your shots, too.
Please e-mail me your favorite pics to mysouthborough@gmail.com by Monday. I plan to post a gallery on Tuesday of some of the best images to share with everyone.
The layout has changed a little this year, and there are some new activities.
Here is the information you need.
Event Map – Click to Enlarge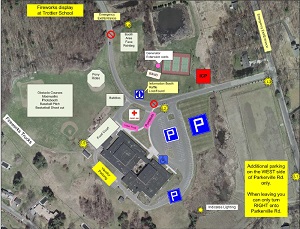 Drop-off/Pick-up
Designated site for drop-off and pick-up is Lundbald Field (South of the Neary School driveway)
Following the fireworks display – no vehicles will be allowed to enter Neary or Trottier until all parked vehicles have exited the site.
Parking:
Neary School parking lot off Parkerville Road (to exit – right turn only onto Parkerville)

Trottier School parking lot off Deerfoot Road

Parkerville Road – West Side only
Trottier School parking lot off Deerfoot Road
Deerfoot Road (one side only, and no parking about 20 yards from entrance and exit to Trottier)
5:00 to 8:00 pm – Free activities.
This year, the inflatables and most activities will take place on the back field. Activities include:
Moonwalks & Obstacle Courses for younger and older children
Fire Department Bubble Romp
Baseball Pitch
Basketball Shoot Out
Photo Booth
Rolling Video Arcade
Professional Face Painting (in the vendor booth area)
6:00 to 8:00 pm – Music by Better Her Than Me
Performing dance music from 60's to the present
Set up near the tennis courts, by the picnic area
6:30 pm – Magician
Dusk – Fireworks:
This year they will be set off from Trottier, to allow more room for the activities on Neary fields
Sponsored by Capital Group Properties and Friends of Southborough Recreation
Provided by Atlas Pyro Vision Productions, Inc.
Food and Refreshments:
Pizza – Domino's
Hot Dogs, Hamburgers, Fried Dough & Cotton Candy – Dean's Concessions
Sandwiches – Quizno's
Ice Cream – The Creamery – Trombetta's
Brownies – Yummy Mummy
Additional Amenities:
Raffle sales
Information Booth/Lost and Found
First Aid
Booth Vendors:
Bluesky Well-Being
Boy Scout Troop 1
Children's Music Academy
The Children's Workshop
Coldwell Banker-Ann Atamian
Fay School
In Bloom Music
Kassalty Novelties
Meininger Family Chiropractic
Middlesex Savings Bank
Rhythm Dance Company
Silpada Jewelry
Southborough Belted Cows
Southborough Rotary Club
Summer Nights Event Sponsors – Thank you for helping Southborough put on this fantasic annual event!
Capital Group Properties
St. Mary's Credit Union
Brendon Homes
Friends of Southborough Recreation
Southborough Recreation
Atlas Pyro Vision Fireworks
Eagle Leasing
Ken's Foods
Southborough Kindergroup
Fay School
Southborough House of Pizza
Marlborough Savings Bank
New England Center for Children
Senator Jamie Eldridge
Representative Carolyn Dykema
Long Automotive Group
Middlesex Savings Bank
Rhythm Dance Company
Phaneuf Concrete, Cutting & Breaking
Wee Care for Little People
Tomasso Trattoria
Volvo Construction Equipment
Thrive Coaching & Consulting Group
Sheri Beran Design
AnnManion.com
Fit Studio 28
More thanks! Local Businesses and Friends who are contributing to this event:
Southborough Selectmen
Southborough Fire Department
Southborough Police Department
Southborough Recreation Department
Southborough Department of Public Works
Volunteers
Neighbors of the Neary School
Southborough Schools Department
Southborough Emergency Management Team
Quikprint Services, LTD.
C.E.R.T.