Southborough residents Lisa Braccio, Debbie Depp Wilson and  Doriann Jasinski are organizing another care package drive for U.S. troops overseas. Braccio is reminding residents that the "draw down" of troops has actually increased the need for these packages:
With the draw down proceeding for the end of next year, unfortunately what we are finding is, that the services are the first thing to be broken down which leaves most Service Members at this point with out Food Services or PX's to buy needed items so most are eating MRE's for all 3 meals. So the the need is as great as at the start of the war, topped with the increase of postage we truly need the continued support of our Community to make this Holiday special for those so deserving.
Since Braccio founded the semi-annual drive in 2005, Southborough has contributed "over 8200 boxes of "touches and tastes" of home weighing over 187,000 pounds".
The drive is their way of letting our military know that their service is appreciated and they have not been forgotten.
This fall, the event will be in honor of Robert Foley, a Southboro Resident, that was killed in action 45 years ago (11/11/68) on Veterans Day. Braccio explained:
This spring we lost Alice Foley, Robert's Mom, and it seemed a fitting time to let this Family [still living in town] know that we have not forgotten the sacrifice they made for our freedoms.
In the past, she's reminded residents that for some of the troops receiving this package can feel "like Christmas".
The fall drive will be Saturday, October 19, 9:00 am – 4:00 pm, and Sunday, October 20, 9:00 am – 1:00 pm, at the Southborough Senior Center.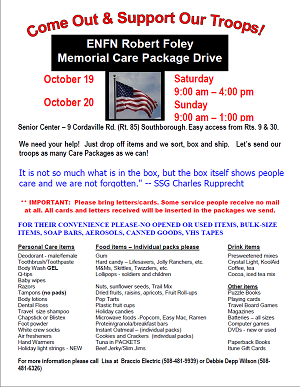 With this advance notice, here are some things you can do:
Add some items from the list to your shopping list for when you run errands
Write a letter or sign a card thanking a service member for his/her service
Mark your calendar to drop off donations that weekend
No donations are considered too small. And if you prefer to donate money, funds would help cover the shipping costs.
For more information call 508-481-9939 or 508-481-6326.
Updated (10/12/13 5:48 pm) I just learned that you can contribute towards cost of shipping by going to carepackagesforsoldiers.org. (That expense is estimated as now up to $9,000. )