This is part of a series profiling organizations in our community. Volunteers or staff will clarify who they are and what they do. You can learn about how to utlize their resources, join or help. 
Northborough/Southborough Special Education Parent Advisory Council (NSPAC)
Mission:
NSPAC is a volunteer organization serving as a resource to parents and guardians of children in the Northborough/Southborough district with special needs and learning differences.
Our membership is open to parents and guardians of children who have Individualized Education Programs (IEPs), 504s or anyone interested in special education within the Northborough/ Southborough School District.
We work closely with the district administration and educators to identify areas of need and act in an advisory role to the school committee and the administration.
Main activities:
Present monthly educational programs on a variety of topics.
Provide a broad range of information, contacts, and networking opportunities.
Share resource information (books, programs, evaluators, etc).
Facilitate connections with other parents dealing with similar issues and professionals who can help.
Present annual 'Go the Distance' awards to school district staff and community members who have made a significant contribution to enhancing the life of a child with special needs. This is our most well-known and well attended district wide event. (Click here for more information)
Our biggest challenges:
Reaching our audience.
Finding more volunteers to help NSPAC remain a more active organization.
No real means to do fundraising.
How can people join?
People can sign up for our email list on our website at www.nspac.org. They will receive notices of our events and local area events related to children/young adults with special needs.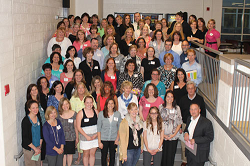 How can people best help?
We are always looking for more parent volunteers. Everyone is welcome to attend any of our meetings, they are always free and open to the public.
Contact:
email: Nspac1@gmail.com
website: www.nspac.org