Starting this Saturday, October 26th,  Scouts will be hanging bags on mailboxes throughout town to collect donations for the Southborough Food Pantry. They will pick up the contributions the following weekend.
This is the Pantry's largest food drive of the year for the Southborough Food Pantry. It is essential for keeping the shelves stocked through the winter and beyond. All donations go directly to local residents in need.
The Scouting for Food drive is an annual tradition, supported by the town's many Boy Scout and Girl Scout troops.
Last year they collected over 10,000 lbs. of donations, and their goal for this year is 12,000 lbs. (or more.)
Here's how to participate:
This weekend, you can grab the bag from your mailbox. (If your bag is missing, or you want to contribute extra, please feel free to use any bag or box.)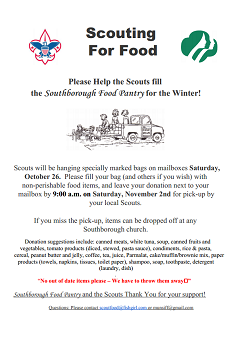 Sometime this week, fill it with donations.
Leave the bagged/boxed donations next to your mailbox by 9:00 am on Saturday, November 2nd.
Donations should be non-perishable foods or other supplies. Please make sure food items haven't passed their expiration date.
All donations are appreciated. For the list of more commonly needed items, check the flyer.
If you have any questions, you can email scoutfood@fishgirl.com or munsiff@gmail.com.
The Southborough Food Pantry and the Scouts thank you for your support.