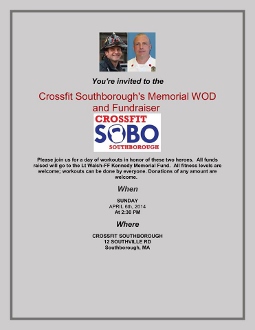 This Sunday, April 6, Crossfit Southborough is holding a "Memorial WOD and Fundraiser".
The Workout of the Day will be in honor of Boston's fallen firefighters Lieutenant Ed Walsh and Michael Kennedy.
Crossfit is asking for donations of any amount. All funds will go to the Lt. Walsh-FF Kennedy Memorial Fund.
The fundraiser will begin at 2:30 pm at 12 Cordaville Road. All fitness levels are welcome.