Looking to kick start your summer?
Aboard the M/V Massachusetts around Boston Harbor with the Southborough Scholarship Committee.
Cruise proceeds support of future scholarships to Southborough students.
The committee recently awarded ten scholarships to Southborough's graduating seniors.
Now, they are inviting the public to "Rock the Boat" with Outta Comission, on Friday, June 20 at 7:45 p.m. to 11 p.m.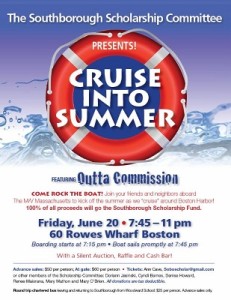 Advanced tickets cost $50 per person; at the gate $60. There will be a silent auction, raffle, and cash bar.
A round trip charter bus is available leaving and returning to Woodward School ($25, advance sales only).
For tickets contact Ann Cave at soboscholorship@gmail.com.