Trottier Middle School's award-winning Big Band presents an evening of Jazz with Southborough native and successful saxophonist Dave Pietro on Monday, June 16.
For two consecutive years the band has won the University of New Hampshire's Jazz Festival; and is a four-time Massachusetts Association for Jazz Education (MAJE) Gold Medal recipient.
Joining them again this year is Southborough native and successful saxophnosist Dave Pietro.
According to the flyer Pietro,
has toured and/or recorded with Woody Herman, Lionel Hampton, and Maynard Ferguson Band; played with Blood, Sweat, and Tears, Rosemary Clooney, Harry Connick Jr., Liza Mannallie, John Pizzarelli, Ray Charles, and many more.

John Murph from Jazz Time Magazine said Pietro is "a fine fiery Saxophonist and a talented arranger…an adventurous yet lyrically reflective musician."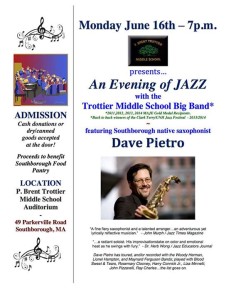 The annual Jazz Night provides a community showcase for students to demonstrate their talent.
It also offers them a chance to support a cause. In recent years, the band raised money for the Eric Greene Memorial Fund and the One Fund.
This year, they are supporting the Southborough Food Pantry. A cash donation or a dry/canned good is kindly accepted at the door.
Don't miss this year's show at 7 p.m. in the Trottier Middle School Auditorium.