Southborough Youth Soccer players will be sporting new maroon and gold uniforms this fall. In exchange, the association is asking for the old royal blue soccer uniforms and equipment to be donated to GOALS  (Global Outreach and Love of Soccer).
GOALS is a nonprofit organization that "uses soccer in Haiti to engage youth in community service and education that improves quality of life today and develops new leaders for tomorrow."
The organization provides "free, permanent sport-for-development programs on a daily basis including daily soccer practice where all players receive food, water and education. Players are also required to participate in weekly local development projects that improve their communities."
Donation bins have been set up at all schools and at 52 Richards Road.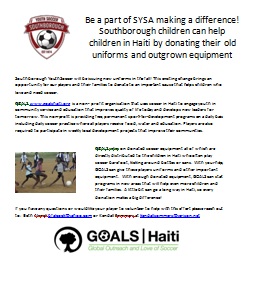 For those who are wondering what the new uniforms look like…come on down to the Neary School on Wednesday, June 25, from 2:15pm to 3:30pm. Drop-off your old blue uniform or equipment and get a chance to see the new uniforms.
In addition to the new uniforms, there will be a new ordering process in the spring. Read more here.
For more information contact Beth Alcock or Kendall Sommers.