Seniors can take a break from the heat this summer and stop by the Southborough Senior Center to watch these popular screen titles: Monuments Men, Grand Budapest Hotel and Las Vegas.
Plus, as a special treat, you are invited to bring the grandkids or any "little ones" in your life to attend Frozen.
All movies begin at noon. The room will be open at 11:30 a.m.  Attendees are welcome to bring a lunch and snacks will be provided.
Monuments Men (2014) directed by George Clooney will be shown on Wednesday, July 23. The movie includes an award-winning cast such as George Clooney, Matt Damon, Bill Murrary and John Goodman.
"Based on a true story of the greatest treasure hunt in history. This movie is an action drama focusing on an unlikely World War II platoon, task by FDR with going into Germany to rescue artistic masterpieces from Nazi thieves and returning them to the rightful owners."
Walt Disney's Frozen (2013) might be Disney's newest animated classic on Wednesday, August 13. Attendees are encouraged to bring the little one's along.
Viewers will be singing along as, "Anna a fearless optimist, sets off an epic journey- teaming up with ragged Mountain man Kristoff and his loyal reindeer Sven – to find her sister Elsa, whose icy powers have trapped the kingdom of Arendelle in an eternal winter."
Grand Budapest Hotel (2014) will be playing on Wednesday, August 20.
This comedic-drama "recounts the adventures of Gustav H, a legendary concierge at a famous European hotel between the wars and Zero Mustsafe, the lobby boy who becomes his most trusted friend. The story involves the theft and recovery of a priceless Renaissance painting and the battle for an enormous family fortune."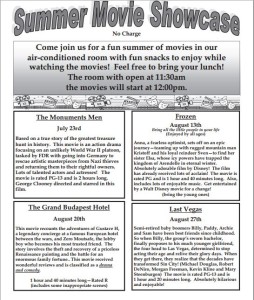 Las Vegas (2013) starring Robert Dinero, Morgan Freeman, and Micheal Douglas will play on Friday, August 29.
"Semi -retired baby boomers Billy, Patty, Archie and Sam have been best friends since childhood.So when Billy, the group's sworn bachelor, finally proposes to his much younger girlfriend, the four head to Las Vegas, determined to stop acting their age and relive the glory days."