Time to take out that skate board that's been hiding and head on over to Finn School. Today marks the grand opening for Southborough's very own skate park.
The wooden park is complete with ramps, boxes and rails for riders to practice their skills.
Construction began in July, after a series of efforts by the Recreation Department to find a place to accommodate one for the growing number of skating enthusiasts in town.
The park will be open from dawn to dusk and during the school year 3 p.m. to dusk. Helmets are required for persons under 16 years old, per Massachusetts state law (see other rules and regulations below).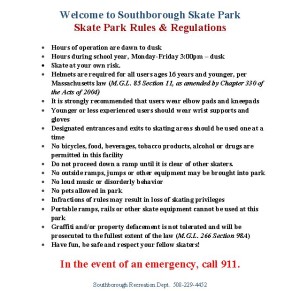 Southborough Recreation Department announced:
Southborough skaters this is your park. I hope that you will help us take good care of it and keep it in good condition . . .  enjoy and have fun.